Welcome to Cleveland High School, Home of the STORM!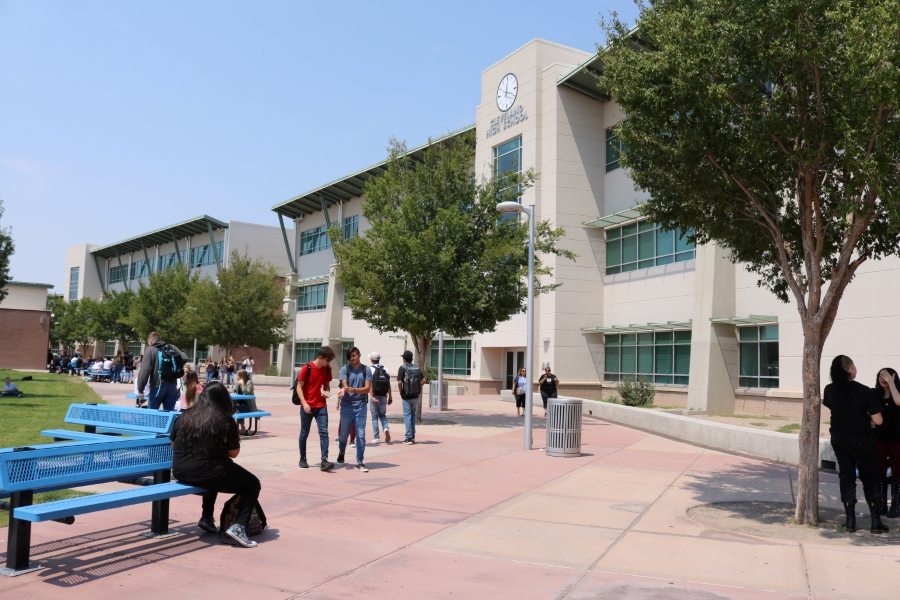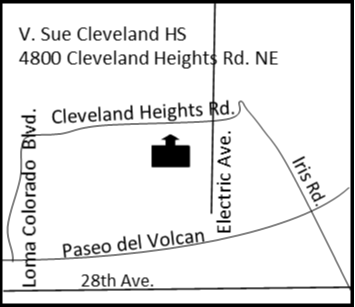 4800 Cleveland Heights Rd. NE
Rio Rancho, New Mexico 87144
Main (505) 938-0300
Fax (505) 338-3474
We are located east of the Santa Ana Star Center.
CHS Important Information
Health Office:
Nurse, Jessica Perez x 52346
Nurse, Mariah Martin, x 52346 Nurse EA, Julie Bernardoni x 52345
Click here to view the Health Office webpage

Special Education Services:
Site Specialist, Rachel England x 52590
Site Specialist, Tasha Rachal x52585
Secretary, Tammy Garcia x 52571
Transition Specialist, Maxine Cordova x 52586
Site Specialist, Stephen Eckert x52586
Social Worker, Julie Ackron x 52588
Social Worker, Nicole List x 52677
Social Worker, TBA x 52683
SLP, Michelle Spiro x 52627
SLP, Tom Tice x 52634
Diagnostician, Mari Bauman x51220
Psychologist, Adriana Lopez x 52631
Recreational Therapist, Lynn Keck x 52551
Recreational Therapist, Kathy Fritz x 52551
Physical Therapist, Tracy Perkins x 52551
Visual Support, x 53491 (also at RRHS)

Security:
Safety and Security, Rip McCool x 52343
Security Manager, Don Mangin x 52342

Maintenance and Building Services:
Building Engineer, TBA x 52389
Assistant Engineer, Michael Murphy x 52389
Custodial Foreman, Kyle Larson x 52537

Education Technology:
Network Support, Andrew Sanchez x 52375
Ed Tech Support / Web Coordinator, Kimberly Griego x 52377

Activities:
Director, Stacy Salinas x 52363

Athletics:
Director, Matt Martinez x 52421
Secretary, Annette Castillo x 52420
School Resource Officers:
Jason Fleming (505) 938-0349
Jonathan Carrasco (505)-938-0341

CHS Advisory Parent:
Jerica Jones, stormparentadvisoryboard@gmail.com

School Profile:
Updated August 2020

Mascot: Storm
Colors: Electric Blue, Silver, and Black
Grade Levels Served: 9-12
Four-Year Graduation Rate: 89.9%
Founded: August 2009 by Rio Rancho Public Schools
Staff Profile: Employees: 229
Teachers: 144

Instructional Support Staff: 39

Non-Instructional Support Staff: 42
School Goals:
Student Excellence
School Programs:
Comprehensive HS featuring a strong academic program in the core subjects as well as varied and rich elective classes, outstanding athletics and fine arts programs, and a wide range of co-curricular and extracurricular activities.

Geographic Area Served:
North of Northern Blvd.
Student Profile:
Enrollment: 2,561 (October 2021)

Percent Special Education: 14.3%

Percent English-Language Learners: 1.8%
Ethnicity/Race: The percentages for each category are rounded up or down to the nearest .1 which may cause the total to slightly exceed or be below 100%. In addition, families of mixed-race heritage may now also designate their child as being of more than one race. This may cause the percentages to add up to a number that is other than 100%.

African-American: 3.6%
American Indian: 7.1%
Asian: 1.7%
Caucasian (non-Hispanic): 30.0%
Hispanic: 57.1%
Pacific Islander: 0.5%
Other/unknown: 0.0%